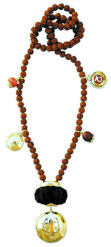 Mala is a Sanskrit word for "garland". Traditionally, a mala is a rosary of 108 beads, plus a central or master bead, which is used, in the Way of Adidam in devotional contemplation of Avatar Adi Da Samraj.
The beads of the mala should be of a natural and porous material so that they absorb the oils of the body, which are excellent conductors of energy. Rudraksha beads, which are the traditional favorite, are the seeds of the tree Elaeocarpus ganitus, which is found in India, Nepal, Malaysia, China, Fiji and a few other parts of the world. Sandalwood beads are also excellent.
As indicated, there are 108 beads in a traditional mala, and for smaller malas, any multiple of nine beads is used. For further Instruction on the sacred nature and use of the mala in Adidam, please see Avatar Adi Da's The Dawn Horse Testament Of The Ruchira Avatar.
In general, the four pieces described above should be nine beads apart.