Sacred Fires offers a complete range of mala stringing services. These services include polishing the jewelry on your mala, oiling the beads with sandalwood oil, replacing your outdated Murti photograph, and any necessary repairs.
Keep your mala in a safe place, and if possible, in the same place, when not in use or being worn. Keeping it near a Murti photograph or other point of contact with Beloved Adi Da is best.
When traveling, keep it in a cloth bag, separate from other articles.
Oil your mala with sandalwood oil a few times a year. If you live in a particularly dry climate, you may need to do this more often. However, don't over-oil as the excess oil will attract dirt into the beads, and they will break down more quickly.
Hand polish the mala accessories when tarnished. (Polishing cloths are available from Sacred Fires.)
When physically active, wear your mala under your clothing to protect it. Also, wear your mala under clothing when in the public, outside the community of devotees.
Your mala holds and conducts the energy of your personal devotional relationship to Beloved Adi Da and His Blessing, so be mindful not to touch other's malas, unless absolutely necessary.
Have the Murti photograph in your pendant or locket updated yearly, as you would the Murti in your Communion Hall. Sacred Fires offers a full range of mala services.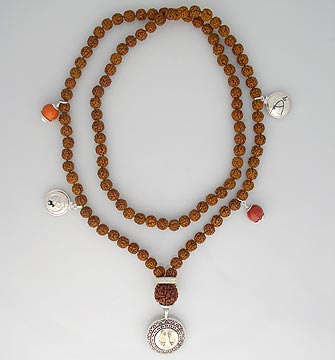 What Murti options are there for the Murti Pendants?
A current Murti photo of Avatar Adi Da Samraj is included with all Murti Pendants. View photo options.
How do I change the Murti photo in my Murti pendant?
For standard round rim Murti pendant:
pry out your the old Murti photo with a heavy needle
use the photo that you have taken out of the pendant as a template for your new photo and with the needle inscribe a mark around the photo
with sharp scissors, cut the inscribed circle as close as possible to the mark on the photograph
place a small dab of white glue to the felt pad that is inside the pendant space (this prevents the photo from rotating over time)
slightly bow the top of the photo to slip under the edge of the rim at top of the pendant
once this initial end is under the rim, move it up as far as it will go under the rim, photo will then slide under bottom part of rim
adjust photo to the engraving on the rim so that it is aligned, before the dab of glue dries
following the same procedure, cut and insert plastic covering over photo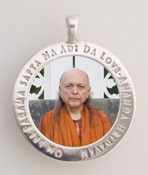 How do I change the Prasad inside my amulet?
For round amulets:
with small screwdriver (eyeglass kit type) turn screw at top of amulet counter clock wise until rim pulls apart
pull silver rim apart and remove crystal and silver disc
fold orange cloth and place between crystal and silver disc
look at this sideways before reinstalling into rim to be sure that the two pieces meet flush. The orange cloth may need to be cut down to fit
holding silver disc and crystal together, place into rim and re-insert screw turning clockwise to close (be sure that you have entered the screw into the short side of the rim and not the side that the ring is on)
if this is the orange cloth Prasad attach nine beads up from the master bead on the right side as the mala is worn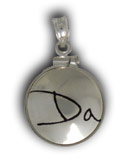 For cylinder amulets:
open small ring on spring ring clasp with tweezers or needle nose pliers
remove spring ring from tab of amulet
slide top cap over tab and off of amulet (do not twist cap)
roll orange cloth around toothpick
slide toothpick out and insert cloth around silver stem and into acrylic tube
fit cap back on tubing and re-attach spring ring by closing small ring with tweezer or needle nose pliers
if using this for orange cloth Prasad attach to mala nine beads up from master bead on the right side as the mala is worn